Discover more from Rob Schamberger Newsletter
Artwork, wrestling, love and other wonderful things.
Over 2,000 subscribers
Back in 2014 (that long ago!?!) WWE reached out to me to do a series of paintings for their upcoming True Giants DVD. They gave me total creative freedom to do my thing with the list of names and then they integrated all of them into the documentary.
It was an incredible opportunity and me being myself I set the challenge to make every painting different. So, not only did I have to turn around a lot of paintings in a short period of time, but I needed to find a different approach for each of them.
Way to go, Rob.
But I'm very happy with the entire collection. It was a fun series that I don't know if I would've done it otherwise. WWE flew me out to Chicago to do an interview for the Blu-Ray edition, which to my memory is the only time I've done one of those. Batista had taken over the room as his dressing room and hilarity ensued as I watched the production assistants negotiate with him so that we could do the shoot.
I imagine it went something like this:
"Dave, we need the room so that we can interview Rob Schamberger."
"Who?"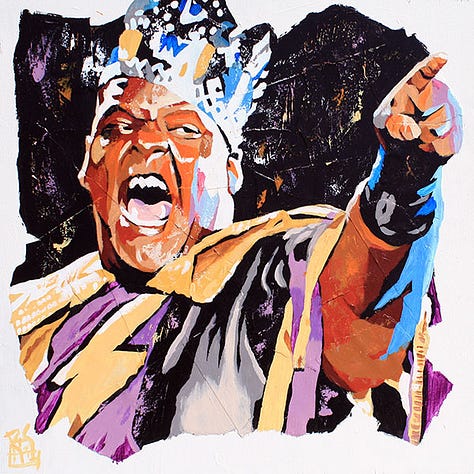 FUN STORY: My first time working backstage for WWE, Mark Henry walked right up to me, put me in a bear hug and said, "You better make a new painting of me or I'm gonna destroy your studio." It was like having a steel girder wrapped around me.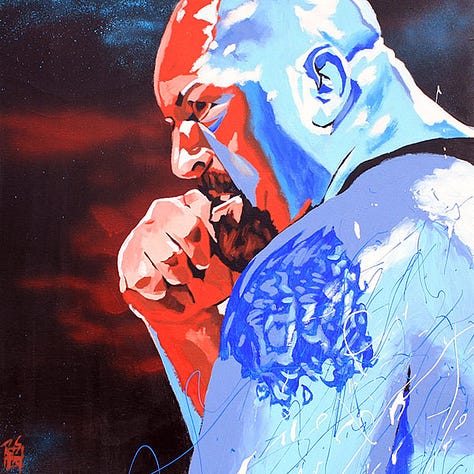 That reminds me of one time at a house show in Topeka, KS Great Khali walked into the production office, laid down on the floor (taking up the entire room) and put on his headphones from a 90's era cassette Walkman. We were all standing there, wondering what was happening. "I'm laying here, bro," he said to us as we all figured out how to get out of the room without stepping on him.
True Giants is on Peacock to stream. I'm biased, but I think it's a really fun documentary.
Love you more,
Rob