Discover more from Rob Schamberger Newsletter
Artwork, wrestling, love and other wonderful things.
Over 2,000 subscribers
Back in 2017 around SummerSlam, 2K invited me out to New York to make this giant mural of Seth Rollins for their VIP party. I don't even know the dimensions on it, it's massive. They gave me an entire wall to do my thing on and I got to it. I had one or two days to make it before the party, and I used a combination of house and spray paint as well as hand-cut stencils for the letters.
The party itself was super rad. A lot of people from the gaming world in addition to WWE personalities and other VIP's. Rollins had a confrontation with Dean Ambrose set off by Dean complaining that HE didn't get a mural made, if I remember it correctly. Afterwards, Seth came to pose with the painting. I went over to say hi and someone from Talent Relations tried to stop me, which led to Seth and I having to explain who I am and that I'd been working with the company for years.
It's impossible to get a big head in this business, lemme tell ya!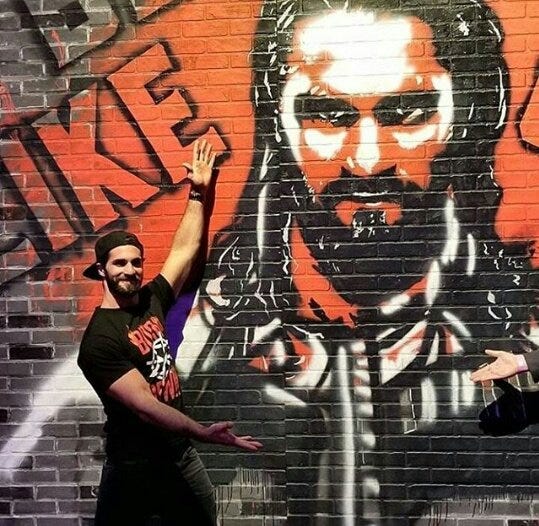 (I got cropped out of the picture with Rollins above by someone on social media. You can only see my hand. Like I said, no big heads in this biz.)
2K gifted the mural to Rollins and it was in his Black and Brave school/ gym for several years until they moved and it was too big to take with them. I don't know what happened to it after that.
Back to the event, the day before it was Katy's birthday and I had to work through it into the evening which I felt lousy about. She got to walk around New York which she loves doing. But the party itself was a chance for her to get all prettied up and socialize until the headline act for the night came out: Snoop Dogg did a live DJ set! The folks who put the event together had fallen in love with Katy and they got her up front row for the show.
(For the record, thanks to wrestling I've gotten Steve Austin to wish Katy happy birthday in person, front row at Snoop Dogg and third row center at Smashing Pumpkins all on or near her birthday. I don't have a big head but there are definitely some job perks!)
Love you more,
Rob