Don't share this image until after 12PM CST. This is a perk for newsletter readers only. Be cool. Don't ruin it for everyone else.
---
Hi. My name's Rob Schamberger. I'm that guy who paints rasslers. And other stuff. Pleased to meet you, hope you guessed my name.
---
WORDS  
While I was working backstage at the 2023 Royal Rumble the talk of the day was 'Dark Asuka'. I was sitting outside of the photo studio when she walked in with her new look and my wife and I couldn't contain our excitement. As soon as Asuka walked out after her shoot I gave her a thumbs-up and said, "New painting!"
Asuka is one of my very favorite subjects to paint, because her look inspires me to push things even further visually than I often would otherwise to spectacular results. I've recently been a lot more painterly and realistic with my work and I eagerly dove into this with a completely different illustrative approach.
After building up values with watercolor, I used a purple ink instead of black to get a richer shadowed area. I particularly love how it picked up the watercolor pigment under it to give slightly different values. I also used brush-tipped pens for the details on the fur of her coat as well as the lines in the hair of the mask. I finished off with a black brush-tipped pen for a few details on the mask and Asuka's face to make them pop even more and then with a French Curve I ruled in black lines radiating from her eye through the purple shadows.
This is quite unlike anything I've done before and I couldn't be more thrilled with the results!
---
ICYMI, here's last week's Canvas 2 Canvas episode. Tomorrow's episode will go up on WWE's YouTube channel at 11AM CST!
UPCOMING VIDEOS  
2/26 - Judgment Day

3/12 - Bray Wyatt

3/26 - Bret Hart vs Shawn Michaels WM12 Wrestling Landscape
Card subject to change.
---
I've got these custom Profolios now available to store your prints in! I hear from a lot of people talking about how they don't know how best to store all of their prints and I think these are a perfect and elegant solution. They're what I use myself! PLUS they come as-is or loaded with four mystery prints. You decide!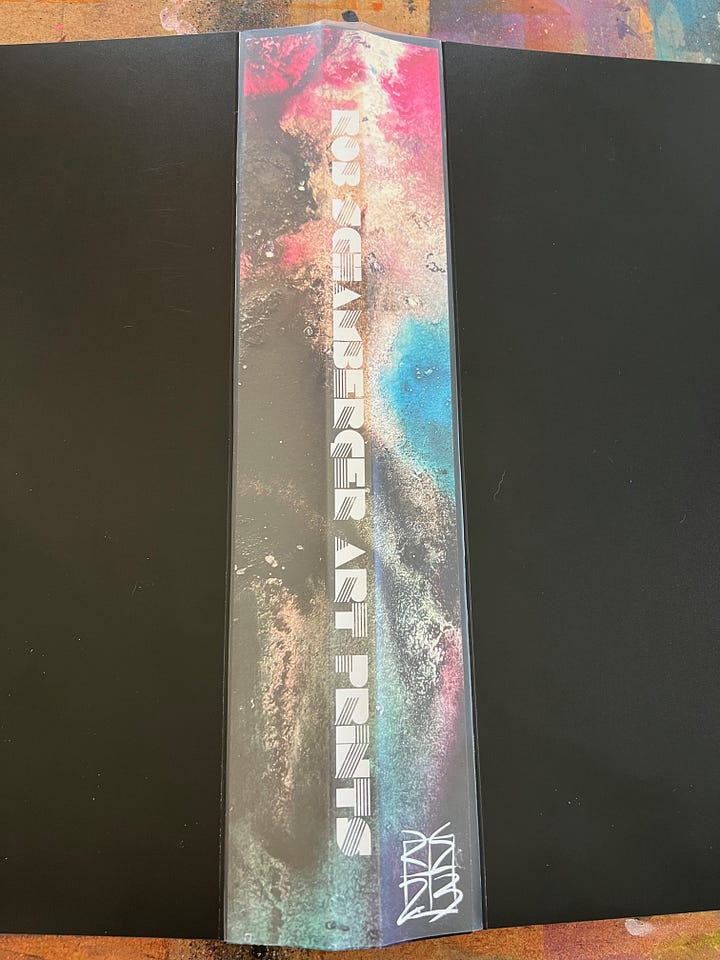 Hundreds of prints and paintings at Schamberger Labs!
Rob and Jason Arnett's novella Rudow Can't Fail!
###
Signed prints at WWE Auction.
###
Instagram
YouTube
---
WRESTLING LANDSCAPE
I've now added in the upper level crowd for this Bret Hart vs Shawn Michaels WrestleMania XII painting and it's finally beginning to look like something from my perspective. It took a while and with the approach I'm taking it won't really look 'right' until I get to the two foreground figures, I think. Taking these very methodical approaches to my new work leaves me in a lot of suspense, hoping that my experience and plans will see me through. So far they have!
---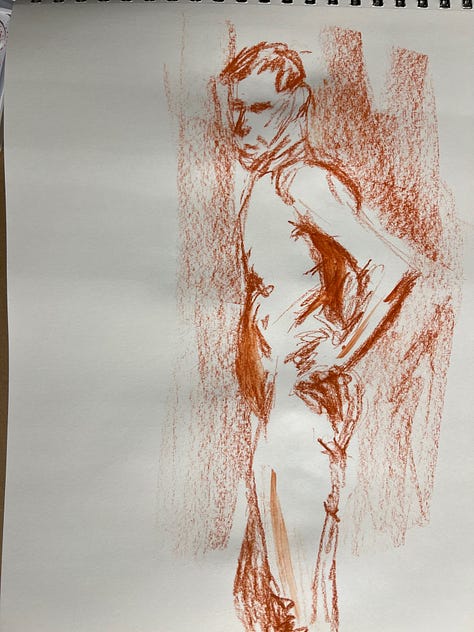 FIGURE DRAWING
Tuesday night I had a blast at Art School KC working with our regular live model Doug. This was my first time using conte crayon for the one minute gesture drawings (the first two), then watercolor for a five minute pose, and watercolor with colored ink for the ten minute and thirty minute poses. Really felt like a strong session for me and I love the atmosphere of the group who comes in.
It's honestly my favorite thing I do each month outside of Katy and I's date nights. I've made some connections that are blossoming into honest-to-goodness friendships.
---
PICARD WORLD PREMIERE
Thinking on it, Star Trek is maybe the thing that's actively been an interest of mine for the longest. Maybe Marvel and DC superheroes predate my falling in love with Trek, but my mom was a closet Trekkie so it was something I could share with her as a kid.
My friend Jake Black writes the Ready Room series for the Star Trek website now, but he used to work for WWE. He actually wrote the backs of my Topps cards and that was how we met. He was able to invite a couple people to the Star Trek: Picard world premiere at the famous Chinese Theatre in Hollywood and he did so for me and this other guy:
It's among the best experiences of my life. Jake and I hung out with the Star Trek/Paramount crew during the red carpet portion of the event and then went into the lobby where we caught up with Cody Rhodes of course, and Jake introduced me to a who's who of people involved with Trek. I had particularly great conversations with the new head writer of Star Trek Prodigy and the lead art director for the Star Trek Online game.
Before the premiere, they showed a Ready Room that Jake wrote and it was so fun watching my friend see his work projected onto THAT screen in THAT theatre. Having just done that with my WWE2K23 commercial at the Royal Rumble, I hope it was sinking in for Jake the same way.
The moment I fully became a wide-eyed kid was when Jonathan Frakes walked by us to take his seat. Like…WILL RIKER. I've been watching him since I was seven years old. Michael Dorn got on the mic to tell us to not record or talk during the screening, but he did it in character as WORF. He told us to not dishonor our families!
Then showrunner Terry Matalas and co-creator Alex Kurtzman welcomed all of us and put over the cast and crew who made all of this happen. And then…
And then Sir Patrick Steward, JEAN-LUC PICARD himself stood up and gave one of the classiest speeches I've ever heard in person. He was incredibly humble, talking about how Gene Roddenberry didn't want to cast him, how he only wanted to come back to the character for the right reasons, and said that while the show is named after him that every single actor was the star for the moments they were speaking on screen.
My mom used to call one of her friends after episodes of Next Generation so that they could talk about how hot he was. When he was assimilated by the Borg and shed that single tear she sobbed. Like, she had to leave the room so that I wouldn't see her that way. When my hair started falling out I got excited because that meant I was getting closer to looking like Captain Picard! And here I was a few rows away from the man.
And the show itself?
It debuts on Thursday on Paramount+ and I'm telling you right now it's going to be THE show everyone will be talking about. It's massive in scope and granular in characterization, just like I love a show to be. The show opens with Dr Crusher being attacked by a mysterious foe and she sends a coded transmission to Picard for help, telling him to trust no one. I'm not going to tell you any more about the plot, but there are HUGE moments with real emotion tied to them.
It's a love letter to all of Trek but not tied to it. There's nods to the original movie and Wrath of Khan, but more thematically. Internally at Paramount, it's viewed as the great Next Generation movie that never was and from my perspective they nailed it. What Wrath of Khan was for the original series, this is the same for Next Gen. They showed the first two episodes and I'm on the edge of my seat knowing I have to wait a couple weeks to find out what happens in episode three!
One more really cool thing from the in-person viewing was that I was surrounded by people who were either in the show or worked on it. Any time an actor first appeared on-screen there were pockets of applause from their friends and family which chokes me up now just thinking about it. Making art is a solitary process, even when done with a crew of other people, and getting to see the fruits of your labor surrounded by your coworkers and loved ones is such a beautiful thing.
---
YOU GOOD?  
While in Los Angeles I met up with my friend Chuck Rice for dinner. We met ages ago when he was a cohost on the Wrestling Compadres podcast and we somehow clicked. You find your people as you go through life, right? He's built a strong career since I met him in the entertainment business and I couldn't be happier for him. He helps out Booker T, Sharmell and Kurt Angle with different opportunities in addition to his other work and things keep building for him.
During the day before the premiere I got together with another old friend David Marquez. Dave's the brain behind Championship Wrestling, but works behind the scenes from time to time for pretty much every major wrestling promotion in the world on the production end. He also produced what's regarded as the worst New Year's Eve broadcast in human history, a thing we love to remind him of. It was great getting lunch, catching up and talking about the future.
What a week. What a month. What a life.
From Hawaii to the 450th episode of Canvas 2 Canvas to the WWE2K23 cover to Royal Rumble to Picard, this has been the best month of my life, personally and professionally. And that's just the stuff I can talk about.
I haven't done this for a few years, but I'm going to give you some codenames for secret projects I'm working on that I can't actually talk about yet but they're still taking up a lot of my time. This time around I'm naming them after Beastie Boys songs. The names are random and are not clues.
PROJECT: CODENAME SABOTAGE is a massive business opportunity, like change-my-life-massive that's in the works. On Monday I had a meeting with a third-party IT solutions company to meet the client's needs and my insurance agent is drawing up a huge new bundle of policies to cover it all. Things should begin to move at a faster clip this week on this and it'll be ready to roll some time next month. I've been building towards this my entire career and that's not an exaggeration.
PROJECT: CODENAME INTERGALACTIC is a fun artistic opportunity. I delivered the mockup to that client on Monday and got approval to move forward a few days later. I've worked with them before and this one has a much larger scale to it. I'll paint this once I'm done working on the Judgment Day piece. It'll debut some time next month and A LOT of people will be talking about it.
Even people in my personal life often think I'm just painting and that's it, but so much more than that is involved with running an art BUSINESS. Meetings, logistics, clerical efforts, marketing, travel, all of it. Success often indeed is about who you know, but you only get into those orbits through what you know. And then it comes down to what you can do when those people give you opportunities.
Love you more,
Rob
---
EXCLUSIVE PAID SUBSCRIBER CONTENT
Paid subscribers this week will get an exclusive 25% off discount code for prints, upcoming signed print releases at WWE Auction, access to the exclusive chat, and 24 hour advance access for the original Asuka painting. WE ARE GO FOR PAYWALL.
Keep reading with a 7-day free trial
Subscribe to Rob Schamberger Newsletter to keep reading this post and get 7 days of free access to the full post archives.